The duinoCase-B+ officially supports the new Raspberry Pi 3 Model B!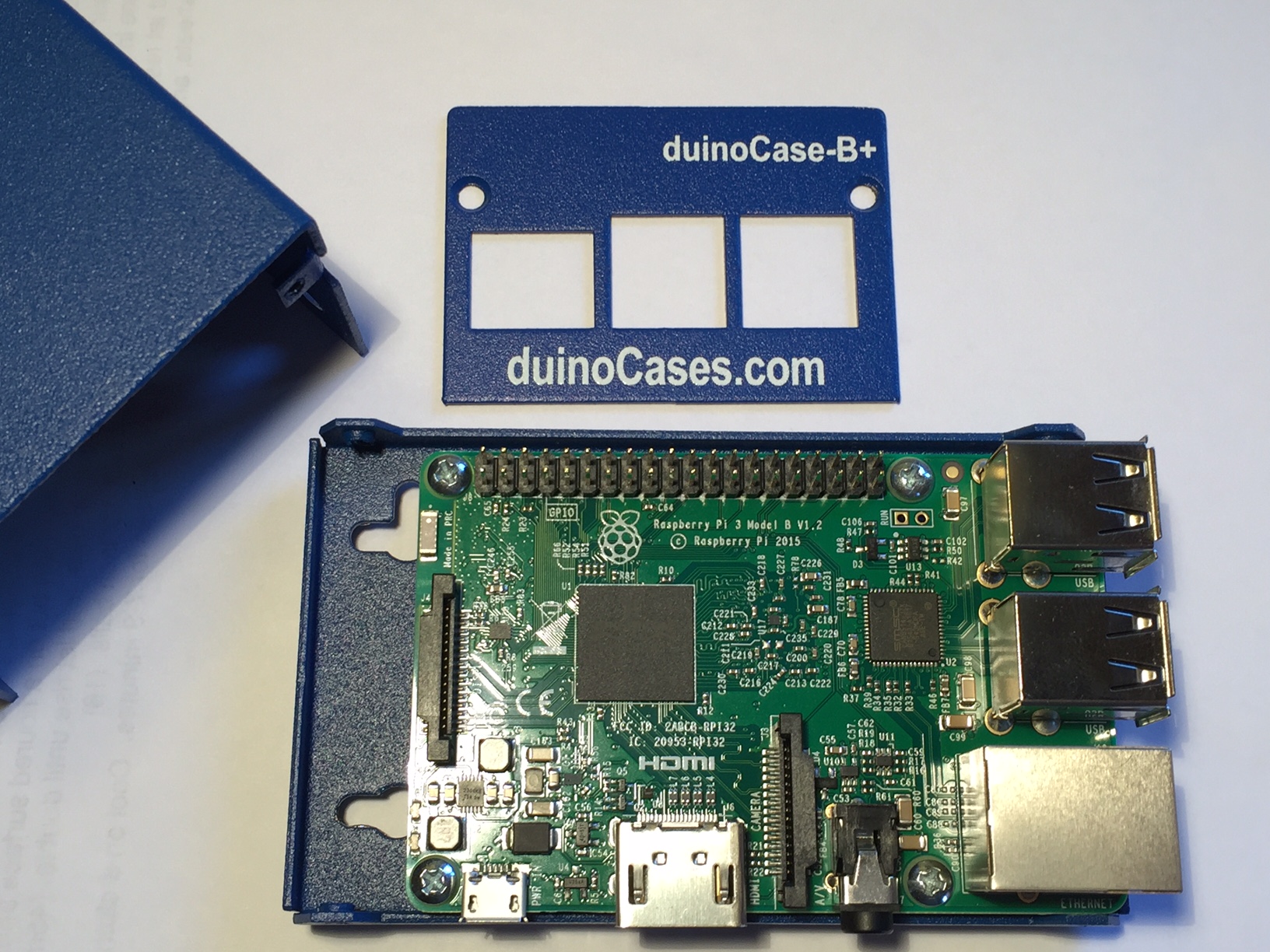 Here at duinoCases.com we're glad to announce that we have officially tested the duinoCase-B+ with the newly announced Raspberry Pi 3 Model B … and it's a perfect fit!
Recently the Raspberry Pi Foundation announced the new addition to their product family, and we couldn't wait to get our hands on some of the more powerful RPi 3 Model B with their new connectivity options.  We got two of the units in last week and did a quick fit-check on the the enclosures and everything is good to go!
From The Raspberry Pi Foundation website:
In celebration of our fourth birthday, we thought it would be fun to release something new. Accordingly, Raspberry Pi 3 is now on sale for $35 (the same price as the existing Raspberry Pi 2), featuring:

A 1.2GHz 64-bit quad-core ARM Cortex-A53 CPU (~10x the performance of Raspberry Pi 1)
Integrated 802.11n wireless LAN and Bluetooth 4.1
Complete compatibility with Raspberry Pi 1 and 2

For Raspberry Pi 3, Broadcom have supported us with a new SoC, BCM2837. This retains the same basic architecture as its predecessors BCM2835 and BCM2836, so all those projects and tutorials which rely on the precise details of the Raspberry Pi hardware will continue to work. The 900MHz 32-bit quad-core ARM Cortex-A7 CPU complex has been replaced by a custom-hardened 1.2GHz 64-bit quad-core ARM Cortex-A53. Combining a 33% increase in clock speed with various architectural enhancements, this provides a 50-60% increase in performance in 32-bit mode versus Raspberry Pi 2, or roughly a factor of ten over the original Raspberry Pi.

All of the connectors are in the same place and have the same functionality, and the board can still be run from a 5V micro-USB power adapter. This time round, we're recommending a 2.5A adapter if you want to connect power-hungry USB devices to the Raspberry Pi.
We'll be doing more testing with this new product, and also checking out the wireless capabilities and how they are integrated into the operating system.
As usual, the base is slotted for wall mounting, and is pre-drilled for our optional DIN Rail mounting kit. Includes stick-on rubber feet, and all enclosure and board mounting screws.
The enclosure is made from common 18 gauge cold rolled A366/1008 mild steel, with a PLT-40104 semi-gloss textured premiere blue coating. Dimensions of the enclosure are (approx.) 4.1″ L x 2.5″ W x 1.75″ H
The duinoCase-B+ is available now on Amazon.com and also from the duinoCases.com website.